UKC GrCh Fanfair's Tiger Lily
Lily was loved and adored by Geraldine Seewald (Lakeforest Shelties) until Jerry's passing. A great lady and supporter of the breed. Her breeders and co-owners, Bill and Mary Stout offered to let Lily come here!
Thank you, Bill & Mary, for allowing this sweetie to come live with us!
Lily was a wonderful blend of her sire
Jason (Am/Can/Int'l Ch BIS UKC Gr Ch Farpointe's Executive Spirit TD)
and her illustrious dam Jill (Multi BIS/BISS Am/Can Ch Brandywine's Imprint 2CC ROM).
This 14" dynamo had 6 AKC points and a major reserve.
Here she is winning BOW under Dave Eadie in June of 2002: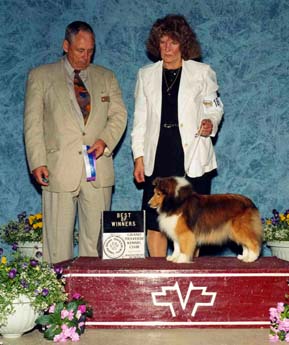 The blown up version: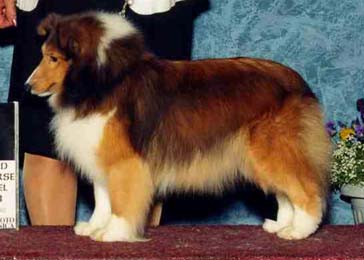 Lily lost her fight with kidney failure at almost 11 years old.
Here is what I sent out when she passed over the bridge:
GrCh Fanfair's Tiger Lily - 6 AKC pts, Group placement
5-22-95 -- 3-17-06
BIMBS Am/Can Ch GrCh Farpointe's Executive Spirit TD
ex Multi-BIS Ch Brandywine's Imprint ROM


Lily came to live with me in 2001 after her previous owner, Geraldine Seewald, had passed away. She was a fun-loving, happy girl who quickly earned the nickname "Silly Lily" and lived up to it until she died. If you talked happily to her she'd wiggle that butt and the sparkle in her eyes was apparent. Often a barking session would accompany that sparkle as she just couldn't contain herself.

She was diagnosed with kidney failure last fall and gamely tried to fight it but lost that fight on Friday afternoon. She waited until I got home from the store, for which I was grateful. I was able to pet her and comfort her through the seizure that took her.

While living with Jerry she earned 6 AKC pts shown by her breeder and co-owner Mary Stout. She did earn a Group 4 placement with Mary along the way. Jerry was always very proud of her and was her greatest cheerleader. After Jerry was gone Mary and Bill sent Lily to live with me. She had fun, earning her UKC championship and grand championship in 8 straight shows - as fast as it is possible to do it. She was a great ambassador for the breed, earning admirers for her happy ways and showy nature.

A tooth injury kept her from finishing her AKC championship and while bred several times she never produced any puppies. Her legacy is the memory of that happy, sheltie soul that refused to be denied her share of the attention. I'm sure that she was reunited with Jerry and the two of them are enjoying each other on the other side of the Bridge.

Goodbye, Silly Lily, you will be missed.

Check out her stellar pedigree!
Lily's pedigree